The Gibran museum in Bsharri, North Lebanon, is maintained by the Lebanese Gibran Committee. It houses his original paintings and personal belongings contributed by his sister, Mary Haskell and Barbara Young following his death. The museum was an old monastery Gibran spoke of retiring in.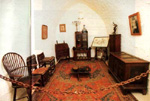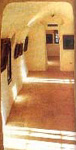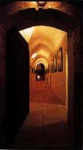 Furniture from Gibran's studio Original manuscripts on display.
in New York.

I am alive like you, and I am standing beside you.
Close your eyes and look around, you will see me in front of you.
- Gibran's words on his epitaph.
His personal library. Original paintings Hanging on the walls.